Captions
|
Web, Mobile, and OTT
Providing accessible media is good business; 48M people in the US (up to 15% of your site's visitors) are deaf or have some degree of hearing loss. Zencoder offers support for closed captioning as part of the transcoding workflow, making video accessible to a broader audience and in compliance with the 21st Century Communication and Video Accessibility Act (CVAA).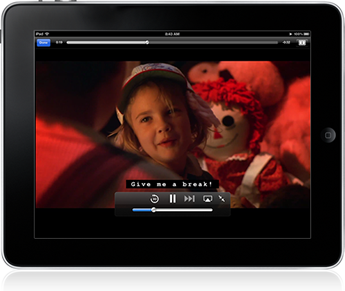 "On January 12, 2012, the FCC adopted rules requiring captioned programs shown on TV to be captioned when re-shown on the Internet." —FCC.gov
Zencoder Closed Captioning Solution Features
Zencoder is the only cloud transcoding provider to support the translation of closed captioning formats for HLS video and CEA-608 caption tracks embedded in MP4 files. We offer a complete closed captioning solution for HTTP Live Streaming on all iOS devices.
Input support for:
MP4 video files with caption track in CEA-608 format
SCC, SAMI, and TTML files (including DFXP and SMPTE-TT)
Output support for:
HTTP Live Streaming (HLS) files with CEA-608 style captions for Apple iOS devices (iPad, iPhone, and iPod Touch)
MP4 files with CEA-608 caption tracks
See our Captions API Documentation to learn more, or read more in our Closed Captioning Guide.